Las Vegas In-Ground Trampoline Installers
When you own your home, it's natural to want to make your outdoor or backyard area a place where your family and friends can enjoy themselves and the natural beauty the space provides. You can both beautify your property and provide opportunities for exciting and fun physical activity when you install an inground trampoline.
Like most people, you probably have many questions about the installation and advantages of something like an in-ground trampoline. Thankfully, the following overview will provide the most common answers and help you decide whether an in-ground trampoline installed by Taylormade Landscapes is right for your property.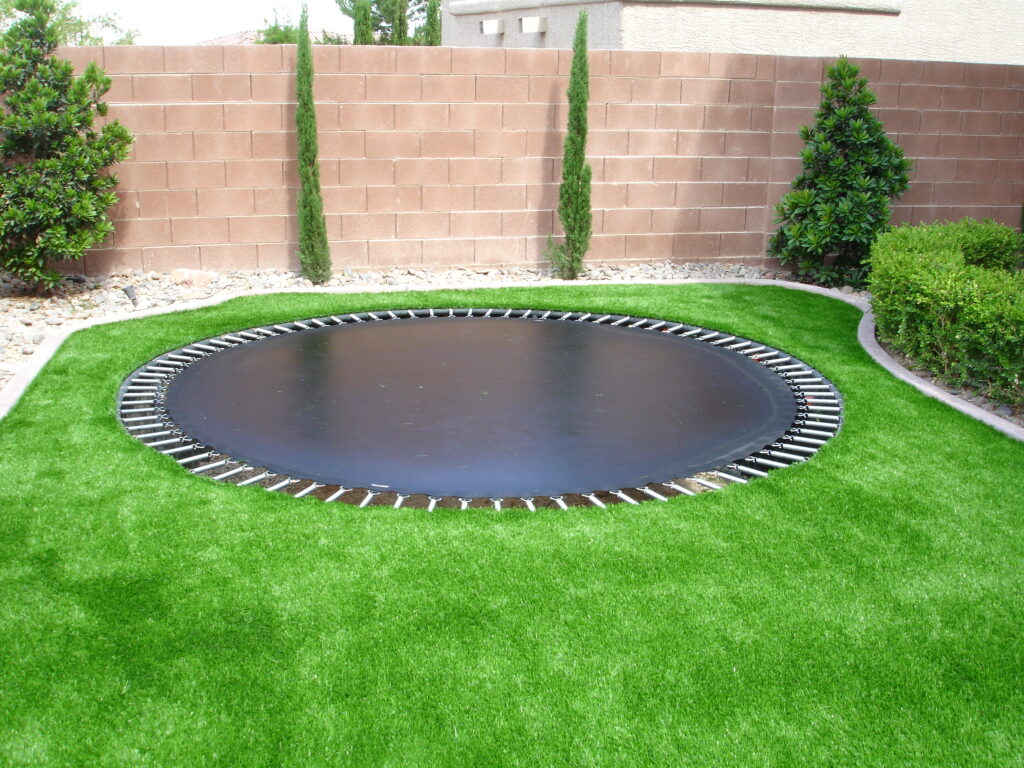 Why You Should Use a Trampoline
Even though you might consider getting a trampoline as something your kids will enjoy, you can — and should — also use it yourself. Jumping is a highly effective form of physical activity, and some studies suggest that it's considerably more effective than even a 30-minute jog.
In research released by the American Council on Exercise (ACE), researchers discovered that a mere 20 minutes on a trampoline burned as many calories as running 6.2 miles or 10 km over the course of an hour. Additionally, 30 minutes spent on a trampoline each day was shown to boost circulation, strengthen core muscles, and improve overall coordination.
Additional benefits of using a trampoline include aiding cardiovascular health, enhanced metabolic regulation, and muscle toning, and since these benefits are cumulative, you don't have to set aside several hours a day for your workouts. Simply fitting half an hour of trampoline time into your daily routine will prove enough to provide noticeable benefits.
Why Choose a Backyard In-Ground Trampoline?
Once you understand how a trampoline serves to benefit your entire family, you'll have to choose the type of trampoline to install on your property. As time goes by, more people are choosing to contact inground trampoline installers, as such kinds of trampolines provide their own unique set of advantages, making them worthwhile investments that provide a source of long-lasting recreation and enjoyment.
A State-of-the-Art Design Ensures Durability
One of your biggest concerns might involve the longevity of a backyard in-ground trampoline, but you don't need to worry. Traditional trampolines have legs that can rust or become damaged over time, but with in-ground models, that isn't a concern. Instead, the trampoline gets installed at ground level.
A double frame design is attached to thick PVC panels, the primary function of which is to prevent dirt and other debris from getting into the tubing that comprises the frame. Additionally, these panels provide enough stability to maintain and protect the trampoline's shape.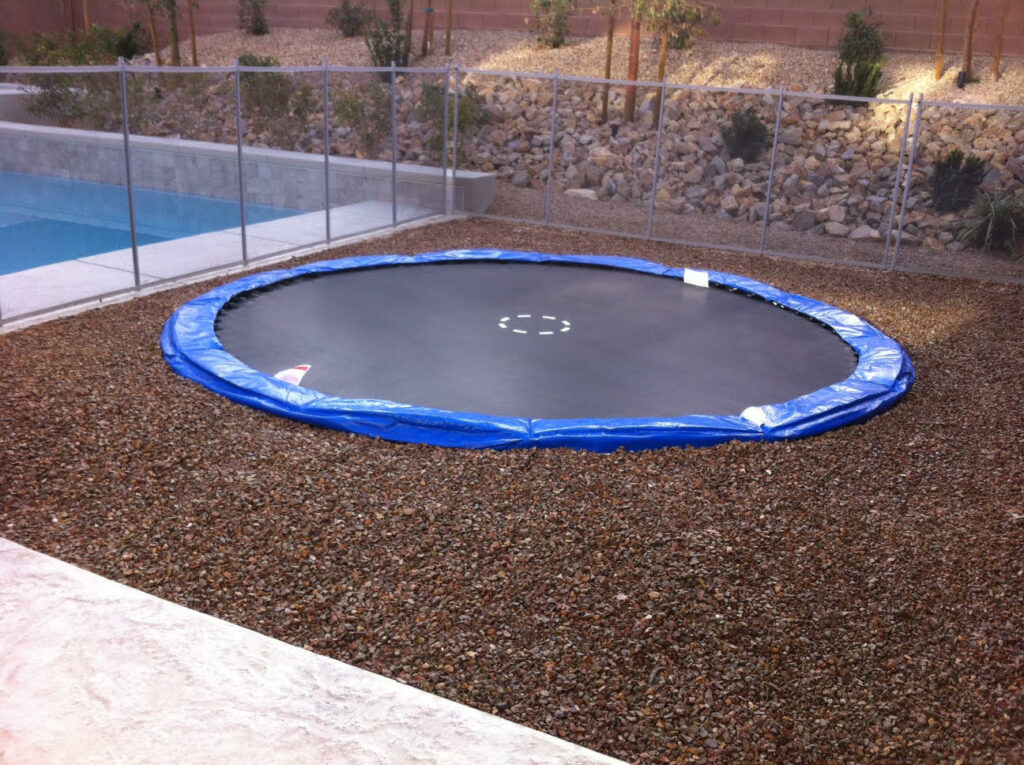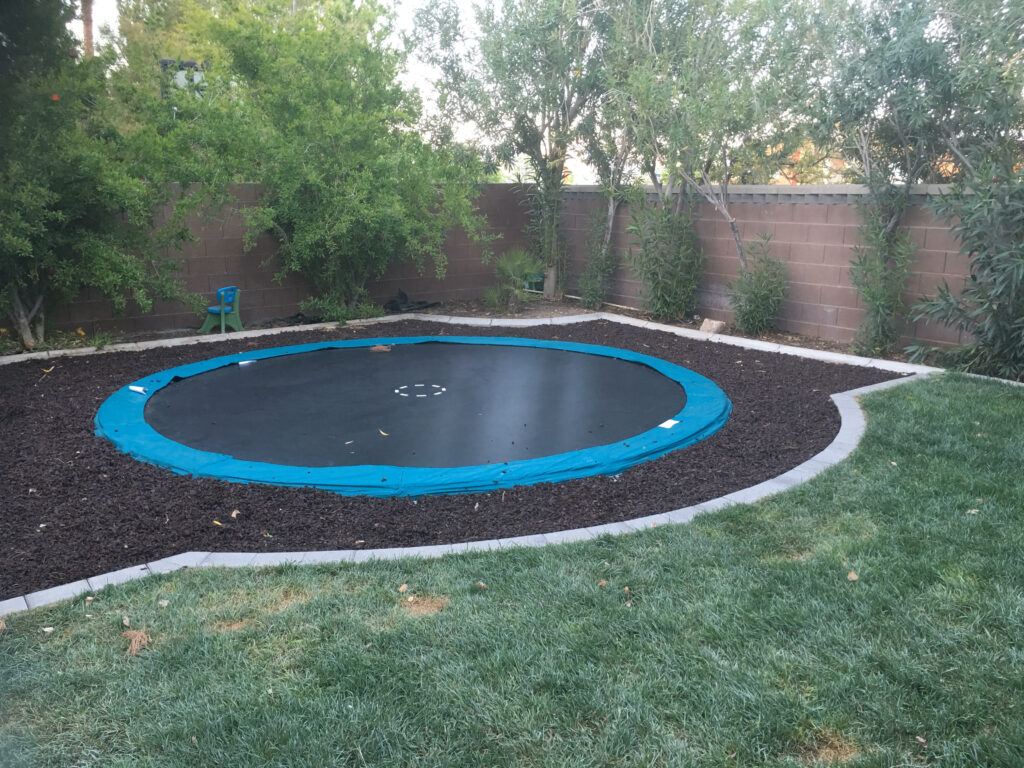 What's Involved in a Las Vegas In-Ground Trampoline Installation?
It's a good idea to know how an in-ground trampoline gets installed so you can prepare for the process yourself. The installation is a type of project that is a little more invasive than simply delivering a traditional above-ground trampoline, but it doesn't involve a lengthy or complicated construction project. In fact, Taylormade Landscapes can complete the entire process for you, eliminating the need to hire multiple companies to perform each individual task.
We'll Help You Design and Install Your In-Ground Trampoline
If you're ready to add an in-ground trampoline to your property, Taylormade Landscapes can help you get started. We'll help you choose the best placement, shape, and size for your trampoline. Get started with a consultation by contacting us today.