Landscape Water Features in Las Vegas
Taylormade Landscape specializes in landscaping services throughout Las Vegas, but we do more than that. Our team can work with you to design and install various landscape water features in and around your property. The two services often intertwine, and many clients choose to work with us to create a beautiful landscape that incorporates water elements in beautiful, exciting ways.
You can design water features that complement any yard while still maintaining functionality as well as style. Water features can elevate the aesthetics of your outdoor space and attract visitors, occupants, and even people passing by on the street. A water feature installation through Taylormade Landscape is meticulous. We plan every detail of your water feature so that it coincides with your existing landscape and creates a seamless and easy environment you're sure to love.
How to Enhance with Water
What can you do with a landscape water feature installation? If you want to attract some of the rabbits, lizards, and other wildlife common in the Las Vegas area, we can help you install a garden pond. Or, if you want a calming source of white noise throughout the day, you might enjoy a waterfall close to your windows. We can even add a tiered fountain at the front doors for pomp and circumstance.
The Taylormade Landscapes Water Feature Collection
If you're looking for a water feature installation in Las Vegas, you might be in the market for a particular fixture, or you could be looking for several to combine. Whatever the case, Taylormade Landscapes has an array of choices to offer.
Waterfalls
For a water feature installation in Las Vegas that'll make a rainforest oasis in this desert city, Taylormade Landscapes can install a carefully planned waterfall onto your property. You can get it with or without a pond, connected to a fountain, or mounted to a wall. With a waterfall, you get an instant source of peace in your own yard that will also bring a new and enviable burst of style to your property.
Ponds
Taylormade Landscapes offer a variety of ponds for your landscape. People enjoy our natural boulder open water feature, which looks a lot like something you'd find on a nature walk. Our pondless feature is another popular option. This design includes water dropping onto a bed of river rocks and into a hidden basin. You can also pick a garden pond to complement your xeriscaping, but whatever the situation, a pound installation will offer a one-of-a-kind charm to your outdoor space.
Fountains
Fountains are one of our favorite forms of water feature installation because they're so incredibly versatile. Whatever free space you have in your landscaping will become far more appealing with a fountain installation. You can choose a tiered or spouted fountain or any other model based on what would suit your preferences.
Pools and Spas
We can design and have a pool or spa built into your outdoor area, keeping in mind the space you have available and any existing structures. The goal is to create a perfect spot where you can truly rest and experience total relaxation. Our pool designs will be the ideal space to beat the heat or enjoy any evening all year long.
Streams and Waterway
The peace you find on the edge of a rippling stream can be discovered in your very own yard! Taylormade Landscapes can install a waterway into your landscape to add a unique natural element to your property.
The Water Feature Installation Process
What goes into our installation process for homes and properties in Las Vegas? During the initial evaluation, we'll gather all the information we can about your outdoor landscaping, considering what elements you want versus what your space will be able to accommodate. Based on what we learn, we will suggest features that will work best and add the most value to your existing property.
Your needs and goals are of the utmost priority throughout the installation process. That's why we have a team of trained Landscape Designers that will present a complete plan or layout for you to approve before we do any hardscape work.
Once you're ready, our construction managers and crew use the most cost-effective installation techniques that will build your new water fixtures as quickly and thoroughly as possible. You may be living in a space with yard sloping or poor soil condition, but you don't have to worry about that when it comes to us. Unlike other providers working in water feature installation in Las Vegas, Taylormade Landscapes will make any landscaping work for you.
The Best Las Vegas Landscape Water Feature Installation
We know that we are not the only water feature installation provider in Las Vegas, but we're still incredibly confident in what we can provide property owners across the area. When you come to Taylormade Landscapes, you're getting twenty years' worth of landscape and water feature experience. Unlike our competitors, we're a full-service landscape and design company that will work with you every step of the way with quality artistry and expert installation.
We are happy to work within your budget. Our prices are competitive, and we go as far as to offer a free consultation. And when we're done, your outdoor property will be elevated to another level. It will look better, run better, and provide an immense boost in property value should you decide to go on the market.
It's an investment, as most worthwhile things are. But when you soak in your outdoor spa or listen to your waterfall from an open window, you'll be glad you took the leap to beautify your surroundings.
Contacting Taylormade Landscapes
If water fixtures aren't in the cards for you yet, we can still help you out. Taylormade Landscapes can design lighting for your outdoor space, along with synthetic turf, irrigation services, and general landscape maintenance. To transform your yard in Las Vegas into a little piece of heaven, contact Taylormade Landscapes to learn what we can do for you today!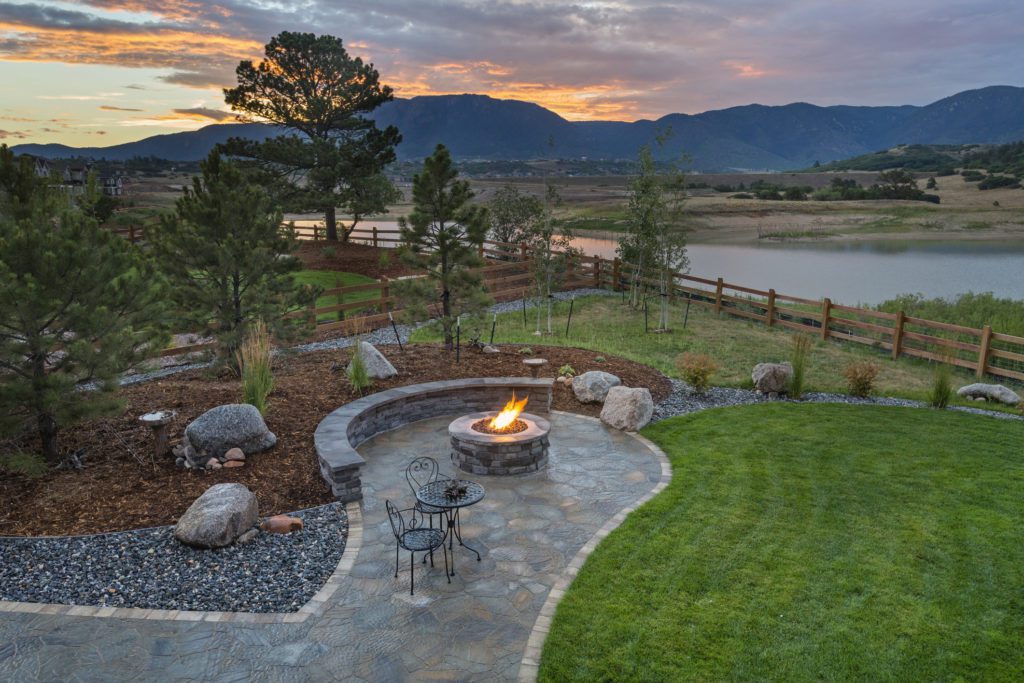 Your Trusted Outdoor Living Space Design Company
When designing or purchasing a home, property owners frequently look for a residence to call their own where the beauty of the great outdoors can be seamlessly transitioned inside. This is often achieved through the inclusion of large windows, natural light flow, and impeccable style.
At Taylormade Landscapes, we believe in the unsurpassed value of bringing the comfort of a home's interior to the outside as well. We do this for our customers through the design and creation of unique outdoor living spaces.
Our creative team of professionals is well-versed in designing custom installations that transform a traditional yard into an exceptional living space. Whether our customers are excited to entertain guests in the fresh-air or crave an outdoor space where they can indulge in tranquility and comfort, our outdoor living spaces promise to be the ultimate solution.
The Design and Installation Process at Taylormade Landscapes
Homeowners who partner with Taylormade Landscapes for their outdoor living space design project will find our process to be seamless from start to finish. We implement a step-by-step experience that takes customer preference into account at all times and weaves in our years of experience too. Customers can count on a 3-part process to achieving their dream design which includes:
Property evaluation
Design review
Contract details and project scheduling
Once you've called our team or filled out our interest form online, customers can expect to receive a complimentary on-site consultation at their home. From here, our team starts to put together a plan complete with customized design elements that our customers can review with us.
We prepare fair quotes that customers approve before we ever get started designing. Once a contract is in place, the hassle-free installation process can officially begin.
What to Expect When Working with Our Team
Working with Taylormade Landscapes is an experience in partnering with experts in the landscape design industry who are passionate about the customers we serve. We strive to help our customers make the absolute most of their outdoor space while delivering fair pricing on all services and results that highlight quality work.
Our many years of experience make us a preferred outdoor living space design company in Las Vegas. Attention to detail is a priority amongst our entire staff of experts as well as providing the ultimate in customer service experiences.
We're dedicated to working with a variety of budgets and infusing our creative talents to take your home's exterior to the next level. Our customized approach to outdoor living spaces is sure to leave our customers satisfied.