Spouting From An Endless Array Of Fun
Splash pads, or spray pools, as they are sometimes called, are a safe and attractive alternative to backyard swimming pools. If you want your children to enjoy the outdoors with a custom aquatic playground, Taylormade Landscapes has the expertise to help you plan, install, and maintain a splash pad your children are sure to love.
With options for jets, mists, showers, and more, spouting from an endless array of fun and innovative water features, your kids will enjoy a variety of play zones within a single splash pad. You can rest easy knowing you'll never have to worry about toddlers accidentally wandering into a dangerous pool area, and you can even design an elegant, upscale splash pad that adds to the value and appeal of your backyard.
At Taylormade Landscapes, we work hand-in-hand with clients to create custom designs that meet every need. Our talented team ensures a fun outdoor space for kids to frolic, imbued with the safety you expect and expressed through the artful installation you prefer.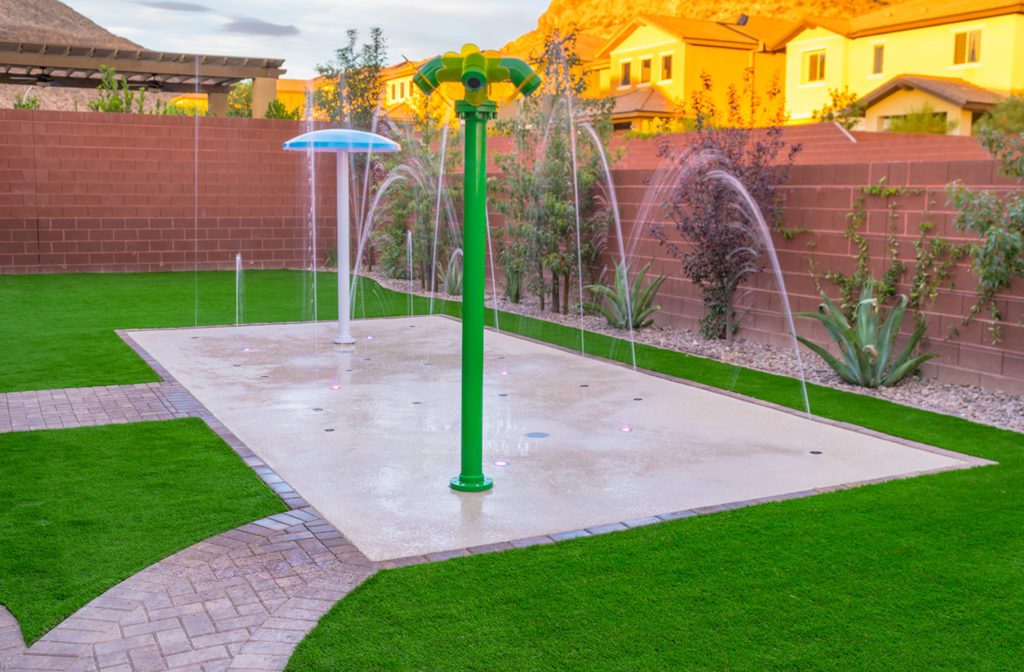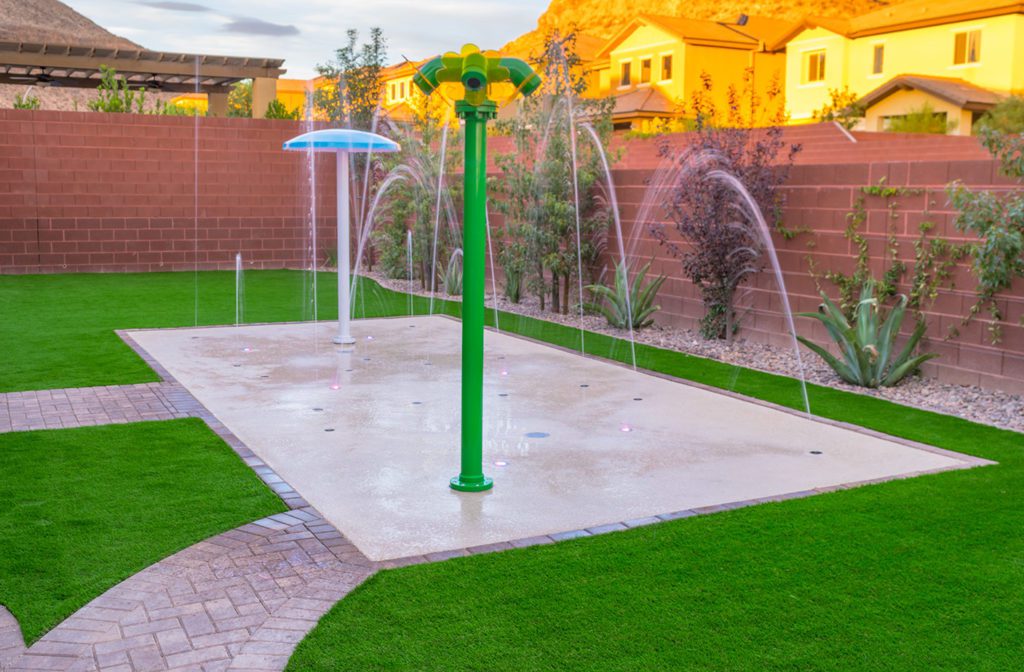 What Is a Residential Splash Pad?
Splash pads have become increasingly popular among homeowners in the last few years. If you're looking for a cool-down solution that is affordable, safe, and easy to maintain, then consider a residential splash pad.
What exactly is a splash pad? A splash pad, also known as a spray park or a water playground, is an area with a non-slip surface that provides hours of fun for children of all ages.
Splash pads are fitted with a variety of nozzles that shower, spray, shoot, and mist water. The splash pad combines the different water sensations to create an unequaled play adventure.
The Splash Pad Installation Process
The splash pad installation process is easy and does not take nearly as long as the process to put up a swimming pool. We know how to create an extensive water play area that is easily maintained, operated, and above all safe for your children.
Why Choose Taylormade as Your Las Vegas Residential Splash Pad Installation Company?
If you want your children to rejoice in the outdoors with a custom aquatic playground and you want someone experienced and affordable to install it, give us a call. We are guaranteed to provide you with the splash pad of your dreams.
For the best residential splash pad installation in Las Vegas, NV, Taylormade Landscapes should be your go-to
Contact Us
Are you ready to see how a splash pad can enhance your home's aesthetic and provide safe, affordable outdoor fun for your kids? Contact Taylormade Landscapes in Las Vegas, NV, to get a consultation today!