Full Service Landscaping Design Specialists
Taylormade Landscapes is a full-service landscaping specialist, offering end-to-end services that include creative, custom designs, expert installation, and ongoing maintenance to keep your outdoor spaces functioning and looking fantastic for years to come. Our landscape design-build services include:
– New Home and Remodel Installs
– Soft and Hardscape Installation
– 3D Concepts and Renderings
– Landscape Installation
– Xeriscaping
– and more
Our talented and experienced team not only designs unique outdoor spaces, perfectly suited to your needs and preferences, but we're a Water Smart Contractor that can help you reduce water waste, without compromising the aesthetic appeal of your yard. We're pleased to offer a 1-year guarantee on new installs to ensure your complete satisfaction.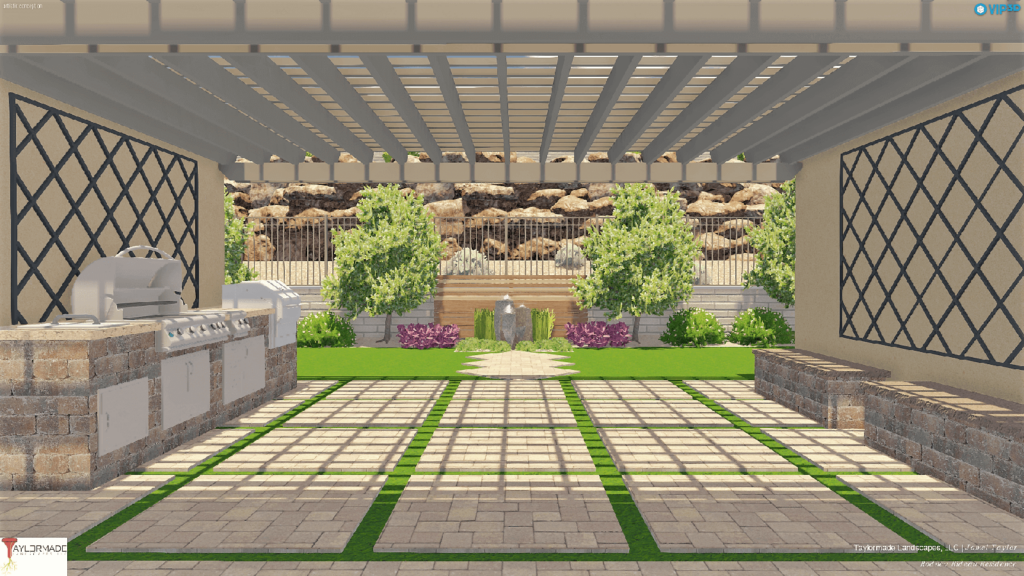 Your Reliable, Full-Service Landscape Design Contractors in Las Vegas
As a full-service landscaping design company, Taylormade delivers convenient, end-to-end services and industry expertise, so you never have to worry about the function and appeal of your outdoor spaces.  It starts with a creative and collaborative design process to ensure that you get what you want and need from your yard.
From there we offer professional installation for elements ranging from irrigation to handpicked flora and premium hardscape materials, to lighting and even a splash pad for the kids.  We provide everything you need to enjoy your exterior spaces to the fullest.
Finally, we're pleased to offer ongoing maintenance services that keep your lawn and landscaping lush and attractive, including xeriscaping that helps you cut water waste and save money.  At Taylormade, full-service landscaping means partnering with you to create the yard of your dreams, and anticipating your every need to ensure a smooth and hassle-free process, from design and installation to regular maintenance.
What is a Water Smart Contractor?
Water is a hot commodity in Nevada, which is why it's so important to find landscape contractors in Las Vegas that are recognized by the Southern Nevada Water Authority (SNWA) as Water Smart Contractors.  As a responsible homeowner concerned with the impact of your water consumption, you need a landscaping partner that's qualified to help you curb water waste and save money on your monthly utility bills, without compromising the quality of your yard.