Synthetic Turf Has Improved Dramatically
It's no longer the conspicuous lawn in your grannie's yard. Today, you can rely on premium materials to provide not only the look of lush grass, but the functional, durable, and low-maintenance yard surface you crave.
Taylormade Landscapes offers a variety of choices for synthetic turf to meet your every need, whether you're interested in installing a resilient putting green or you simply want a hassle-free lawn that helps you reduce water waste. Your custom yard space should always work with your lifestyle, and synthetic turf can deliver both the beauty and convenience you deserve.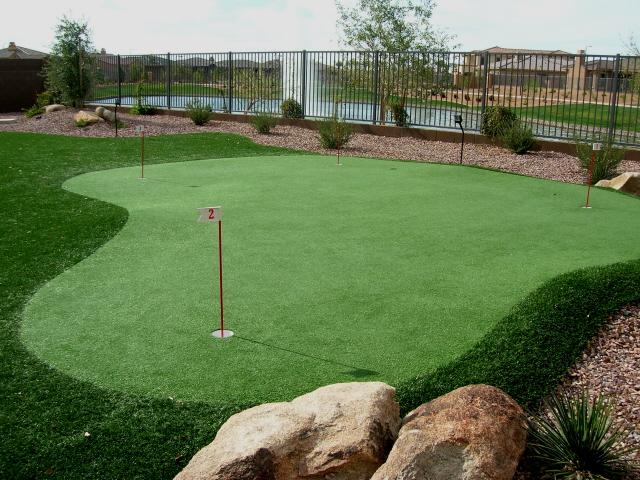 Home Synthetic Turf Installation in Las Vegas
Synthetic grass is fast becoming a popular landscaping choice for homes across the country. Las Vegas Valley homeowners appreciate its built-in attractiveness and minimal maintenance as a replacement for dry, spotted lawns that require heavy upkeep just to keep alive.
Taylormade is at the forefront of synthetic lawn installation in Las Vegas. We turn artificial lawns and grounds into beautiful, eye-catching, and comfortable features that stay in perfect shape all year long.
What to expect from Taylormade synthetic turf installation in Las Vegas
Taylormade Landscapes has provided the Las Vegas Valley with artificial lawn installations since 2006. As a family-owned business, we focus on the needs of each customer on a one-on-one, friendly basis.
Our installation team has a great deal of experience working on all sizes and kinds of lawns and landscaping in the Las Vegas area. They're constantly educated and updated on the latest developments in synthetic grass installation, always improving on their already first-class service.
Taylormade Landscapes works with each of our clients to make creative, stunning home lawns and landscapes, with attention to every small detail at an affordable and reasonable price.
Taylormade Landscapes' synthetic surface installation process
We make every step in the process of synthetic lawn installation easy, transparent, and predictable:
Contact us, either by phone or with our online form, to schedule a free consultation.
We'll visit your property to discuss and determine the overall scope of the project.
Taylormade Landscapes offers a fair and reasonable price estimate to fit the needs of your project and your budget.
We'll offer you a series of dates for artificial turf installation that works best with your schedule.
Finally, we'll install your synthetic lawn over a day or two, depending on the extent of the job.
Hundreds of Las Vegas homeowners continue to turn to Taylormade Landscapes for their synthetic lawn installations, from the smallest patio installations to the most complex yard overhauls. Contact us today to get started on your home.